With so many marketing options available nowadays, it's hard to know which ones to pick for your law firm. Fortunately for you, I've done just about everything on the planet at least once. It's been a great learning experience but costly at times. Here are a few ways to improve your online visibility.
1.  PPC (Pay Per Click on Google)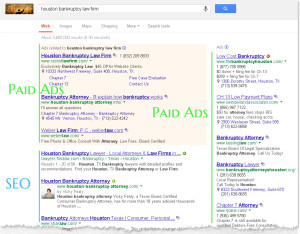 PPC advertising or Adwords very popular but also extremely expensive if you're trying to bid on these keywords.  Personally I've seen them get over $110 per click on mobile device clicks.  If someone misdials, well that mistake just cost you $110.  PPC can be a very valuable tool but it takes a lot of time to craft the perfect ads, keywords and list of negative keywords.  From my experience it takes anywhere from 3-4 weeks before you start seeing a decent return.  Also, it takes a certain budget to really compete in the law market.  Law keywords are the 4th overall most expensive keywords in Adwords.  If you aren't spending at least $2k/month you won't be seeing much of a return.  The first month will be a complete wash if you're lucky enough to break even.  You should be able to make back your initial investment in the 2nd month, and maybe even see a positive ROI.
2. SEO (Search Engine Optimization)
SEO is another great way to drive a ton of organic traffic.  It's also an expensive route to go, but it's worth every penny because it's more of a long term investment than PPC.  SEO is like buying a house and getting equity as opposed to PPC which is more like renting.  Both have value but will take a substantial budget to achieve success.  SEO is not a form of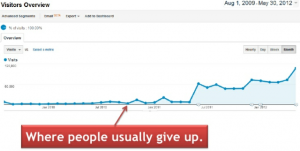 marketing you want to go cheap on.  If you don't have the budget to do it the right way the first time, you're better off waiting.  The reason being, getting quality links in the SEO world is very expensive.  As we all know links are a huge ranking factor.  Cheap SEO companies don't have the resources to acquire those so they cut corners.  They purchase links through link farms and do blog comments instead of getting high quality authoritative contextual links from respectable sites.  A tip for hiring the right seo firm.  Make sure they have actually performed SEO services for law attorneys and lawyers in the past and seen good results.  Getting real results for law related keywords on Google is tough.  It's super competitive so if they can crack the top 10 for those keywords, they must be doing something right.  Cracking the top 3 results is something legends are made of.
3.  Email Marketing
This method of reaching potential customers can be overlooked.  It's always a good idea to capture email addresses and leads for databasing purposes later.  You never know when you might need them.  There are lots of different email clients out there that can help you with your email marketing needs.  Aweber is one of the more popular ones.  The downside to this particular one is that the recipient must first opt-in to receiving your messages before you can send them.  A little annoying if you ask me.  Constant contact on the other hand allows you to start firing away.  It includes a small "unsubscribe" button near the bottom in case the recipient wants you to disappear forever.

The trick to getting great results with email marketing is building a large database, understanding that base of users and emailing them readable, useful content.  You really want to be building a great blog so that you can use that as a gateway to get people to your site.  It's important to understand that you don't necessarily want to blog about heavy complicated law content that only lawyers would understand, but content that people actually want to read.  Topics that help people understand the law better or what to do in particular situations.  For instance, "What to Do if You Get Pulled Over After Having a Few Drinks" would be useful to people.  Those are the kind of posts you want to send to your email list.  Building that list will take time but if you promote your site long enough, you'll have plenty of addresses to start a full-fledged email marketing campaign.
4.  Yelp
It's pretty easy to understand why Yelp is playing a large role in helping people make better decisions.  Hiring a lawyer can be one of the most important decisions of your life.  People want to know what others are saying about how they were represented.  Did he lose, did he win, did he return their calls.  Yelp is the best way to find this information out.  Lawyers should be actively encouraging their clients to leave reviews.  Getting those 5 star ratings is key and the competition is stiff.  Another option is to simply by your way into their ad system: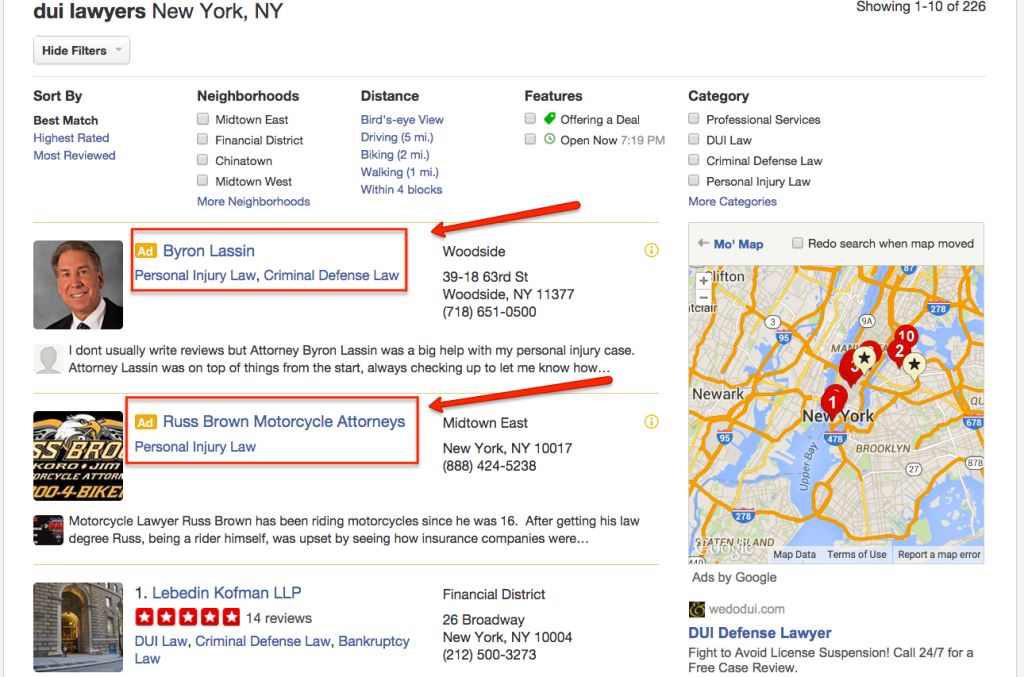 It's a lot like Google Adwords where it allows you to bypass the work of getting hundreds of reviews and go straight to the top.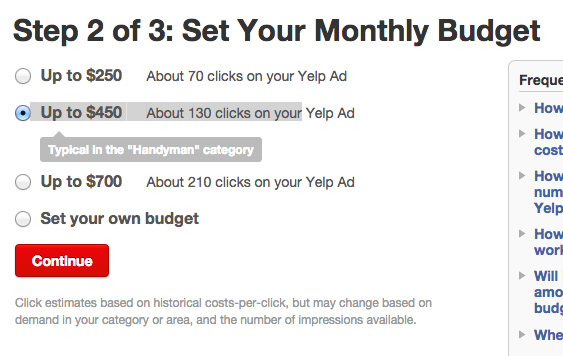 Although most people will browse right over your listing because they know its just an ad.  You will have to test this for yourself to see if its worth it.
5.  Google Reviews
Google reviews are becoming more and more important for a lot of reasons.  When a person does a company search Google reviews is one of the first things they notice.  They see the stars right below your website on the search results, and start going through them.

Most people are going to Google your company first, read those reviews, then go off to Yelp and also read your reviews so its very important to have a good base on both.  Since Google is the first stop, it's important that you get as many as possible from customers that had great experiences with your services.  Don't think just because you get more reviews that your ranking will suddenly start moving up.  There is absolutely no correlation between the amount of reviews you have and where you rank on Google local.  Sites that have the highest domain authority generally rank the highest on Google local regardless of how many reviews they have.
6.  Directories
In the law marketing world directories have always played a huge part in driving traffic to their firm websites.  The value comes in two parts.  The first part is the value from the referral traffic.  Most of these directories get lots of traffic and people looking for qualified lawyers in their area.  Directories charge a premium to the lawyers and allow the customer to find the lawyer through their listings.  The top paid spots are usually the most beneficial because just like PPC, it puts you at the very top.  Obviously the top holds the most value and drives the most traffic which is why lawyers are always fighting over it.

The second part of value comes from an SEO standpoint.  It's no secret that law sites need links built to them to drive rankings.  If you're trying to boost your SEO, getting a paid listing from a highly authoritative directory like this one transfers a lot of juice to your site.  If you buy enough directory links it can really catapult you to the top of the organic Google listings.  Make sure to only purchase from law related directories though.  You want your links to be relevant to your market.  You shouldn't over do it, but a few well placed relevant directory links can go a long ways.
7.  Social Ads
This is a big miss for a lot of lawyers.  Most of them don't see the value in building a following on social media.  Not only is it important to your brand to build a following, but these ad platforms allow you to target very specific groups of people based on age, location, occupation, income, etc.  Having the ability to only show your ads to the people in your demographic is a huge advantage.  The only two I feel really bring any value to lawyers are Facebook and Twitter.
Here is what the Twitter ad platform looks like:
You can see by this data that spending only $82.58 reached 133k people, 1,550 of which became engaged with the ad, and 78 actually followed the account.  Small price to pay for numbers that good.  As a lawyer you only need a very small percentage of these follows to convert for it to pay for itself.  For this campaign I created 5 sets of ads and each one brought different results.  The trick is to find an ad that gets you the lowest cost per result.
Here is what the Facebook ad platform looks like:

This ad data shows that it generated 106 page likes on their account page and cost them $147.72.  You can also see from the ad set that it was targeting people in LA from the age of 21-35.  You can also target by behavior and interest which is great.  For instance, if you are a DUI lawyer you can create ads that target young people between a certain age group, in the US that have an interest in drinking alcohol.  It doesn't get more specific than that.  Learn to utilize these platforms before your competition does!